Established by my parents, Phillip and Elaine Cross, in 1961. After my mother passed away, in 2016, my father and I became joint owners. Together we continue to produce dogs of the best breed type. This is a photo of the three Miniature Pinschers that started Minelphi.
Aust. Ch. Shumah Kiltie (IMP.UK) , Aust. Ch. Pindom Lady Fiona (the dog in the middle) and Aust. Ch. Shumah Perry (IMP.UK) a Black and Tan dog with (normally) lovely erect ears.
Shumah Kiltie and Shumah Perry were imported from the UK in 1961 and Pindom Lady Fiona was bred by Harry & Margaret Spira from some of the original Miniature Pinschers that were brought into Australia in 1958.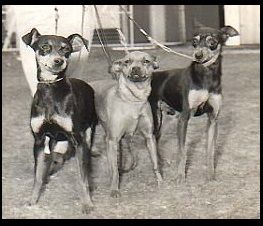 Contact Details
Errolynne Cross
Swan View, WA, Australia
Phone : 0421037018
Email :
[email protected]
25406 Visitors